A 60th REUNION PREVIEW – 4.25.22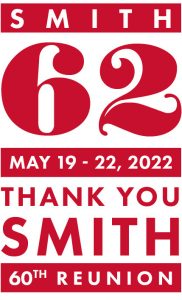 ATTENDEES: To date, 52 classmates have registered:
Anita Volz Wien – Baldwin House
Ann Tenenbaum Popper – Baldwin House
Anne Clarke Gabel – Gillett House
Barbara (Barb) Rose Cope – Northrop House
Barbara Veirs Ro – King House
Bonnie Sullivan Smith – Scales House
Caroline (Betsy) Bacon Newell – Hopkins A
Celia Francis McKee – Northrop House
Cynthia Healy Ellis – Tyler House
Cynthia Lewis LaMothe – Cutter House
Dorothy (Dee Dee) Dana Bradford – Cutter House
Elisabeth Morgan Pendleton – Cutter House
Francie Garber Pepper – Scales House
Fredericka (Freddie) Cobey – Wilson House
Gail Laurence Layman – Wilson House
Harriet Branson Applewhite – Ziskind House
Harriet Margolin Ziefert – Cushing House
Jennet (Jen) Burnell Lingle – Gillett House
Jennifer (Jenny) Gaden – Baldwin House
Jill Greenspan Schiffman – Lawrence House
Joan Sigel Schuman – Gardiner House
Joanne Smith Thorp Carlisle – Emerson House
Julie Keith – Cutter House
Laura-Beth Grossman Goodman – Tyler House
Lora Kleinzahler Freier – Hubbard House
Lydia Saltus Menedez – Dawes House
Lynn Hecht Schafran – Morrow House
Margot Eisner Freedman – Cutter House
Marguerite (Peggy) Rose Shulman – Capen House
Marjorie Meyer Resnic – Emerson House
Martha Armstrong – Albright House
Mary Blanton – Capen House
Mary (Mary Lou) Sweig Wilson – Chapin House
Nan Borton – Capen House
Nancy Shaw May – Washburn House
Pamela (Pam) Smith Henrikson – Cutter House
Peggy Block Danziger – Baldwin House
R. Judith (Judy) Tuchman Ratzan – Emerson House
Roberta Walsh Boylan – Gillett House
Sally Barnes Sonne – Gillett House
Sandra (Sandy) Bensen Calhoun – Wilson House
Sue Sargent – Cutter House
Susan Komroff Cohen – Cutter House
Susan Bell Dennett – Cutter House
Susan Bromley Lantz – Emerson House
Susan Teommey Rydell – Cutter House
Susan (Sue) Ensworth Saltus – Capen House
Susan (Susie) Stewart – Tyler House
Susan Nowack Thanes – Gardiner House
Susannah White – Hubbard House
Suzanne Solomon Gossett – Cutter House
Virginia (Ginny) Rex Day – Wilson House
Virginia Judith (Judy) Bowman – Scales House
ACTIVITIES AND INFORMATION:
Campus wide activities: Ivy Day, faculty lectures, a Conversation with President McCartney, the Maya Lin exhibit at the Smith College Museum of Art, Botanic Garden visits and an Open House of the Smith College Historic Clothing Collection (over 4000 garments), hosted by the curator of the collection, Threatre Professor Kiki Smith '71.
Just for '62:
Two of our events will take place in the Browsing Room of the New Neilson Library!
Service of Remembrance, led by Ginny Rex Day and classmates, Friday, May 20, at 2:30 p.m.
Class Lunch and Faculty Lecture, Saturday, May 21, 12:00 – 2:00 p.m.
Speaker: Michael Thurston, Smith College Provost and Dean of Faculty and Helen Means Professor of English Literature.
Topic: Class of 1962: Looking Ahead to Look Back (and Vice Versa): Modernism's Annus Mirabilis (1922)
Headquarters and Rooms: Northrop and Gillett Houses, which are centrally located and have elevators!
60th Reunion Art Show: Our fantastic virtual art show, including more than 100 works by 29 class artists, will be shown on screen at our headquarters (and soon available on our website).
Registration Closes May 2. We hope you can be there!