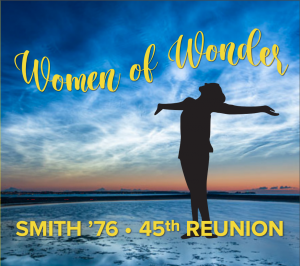 Spring 2021
Greetings, classmates! Under the able leadership of Louise Jones McPhillips and Jennifer Lenox Craig, we're busy planning for our virtual 45th Reunion, scheduled for June 3-6, 2021.
Many thanks to Harriet Heldenfels Yake for our 45th reunion artwork! And be sure to check out the Smith College Class of 1976 Facebook page for news and updates. Sara Stewart Torrey created several photo albums that are linked to the Campus Video and Photo Albums page, and Susanne Dunlap filmed a campus tour video on that page as well.
Looking forward to seeing everyone via Zoom in early June!