We need your support! The D.C. Smith Club is a volunteer operation and our dues help to defray the cost of communications, admissions activities, programs, and events. Benefits of membership include: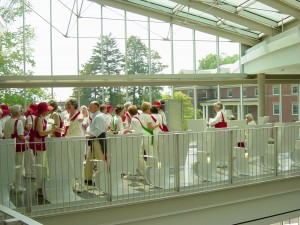 Programs and Events – a variety of events throughout the year such as our annual holiday tea, lectures by visiting faculty members, presentations by alumnae, special tours, and social events.
Club Newsletter – bimonthly newsletter features news about SCCW events, fellow Smithies, volunteer opportunities, and fundraising.
Fundraising for Local Area Scholarships – events, including our annual pecan sale, to raise money for scholarship dollars to Washington-area students whoa tend Smith.
Volunteer and donate to MLK Elementary School – Since 1989, the club has had a partnership with MLK Elementary School, supported by SCCW dues and the dedication of volunteers who read to students, provide tutoring, and help the school in other ways.
Special interest groups – Young Alumns, Stay at Home Moms (SAHM), Book Club.
Tax deduction – SCCW is a 501(3)(c) nonprofit organization, which means your dues are tax deductible.
On behalf of the Smith College Club of Washington D.C., the board thanks you in advance.