We need your support! The SCCW is a volunteer operation and our dues help to defray the cost of communications, admissions activities, programs, and events. The Club requests and relies on dues, but dues are not required for membership. Benefits of membership include: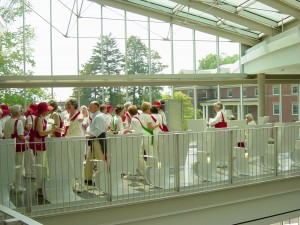 Programs and Events – Attend talks by visiting faculty and alumnae, unique tours, book discussions, and, of course, teas. Special gatherings are planned for young alums to meet and connect socially and professionally.
Communication – Receive our monthly e-newsletter listing upcoming events, volunteer opportunities, and updates, and our newsletter featuring highlights and pictures of past events, local alumnae, and summaries of topical issues related to Smith College.
Fundraising for Local Area Scholarships – Help SCCW raise money through our annual pecan sale and special events to provide scholarships for Smith students from the Washington, D.C. area. We also raise funds to support Smith students interning or working in the region and to subsidize SCCW activities.
Mentoring: Grow and nurture by joining the next cohort of the SCCW Mentoring Program as a mentor or mentee.
Admissions: Connect with prospective students by assisting with alum interviews, Smith College book awards, and the spring rose (or book) drop.
Tax deduction – SCCW is a 501(3)(c) nonprofit organization, which means your dues are tax deductible.
On behalf of the Smith College Club of Washington, the board thanks you in advance.