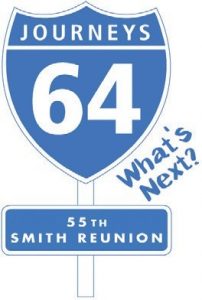 117 strong with numerous guests, we returned to Smith for our 55th Reunion over Memorial Day weekend. Some of us first met almost 60 years ago, a life span that was a lifetime at the beginning of the last century. With thanks to the house reps, led by Barbie Hull Francis, Gee Harvey Wheeler, and Anne Sonnekalb Iskrant, we had the second highest attendance at a 55th reunion, missing the record by four alums.
We laughed together. Some of us cried together. We looked back at the '60's and '70's. We looked forward to our 80's and 90's. We remembered. We looked to the future. We had fun.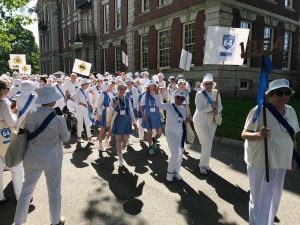 There was magic in the air. We felt lucky to be alive. The weather was beautiful and the campus at its best. We cherished our rigorous Smith education and reminisced about challenges, setbacks, and changes. We shared stories. Many of us felt grateful to be part of a cohort of energetic, creative, imaginative, and committed 76- to 77-year old women who continue to embrace life in its many forms, whether by coping with physical limitations, focusing more narrowly and more deeply on fewer activities, or expanding into new theaters of operation in the arts, politics, healthcare, or living arrangements.
What were the highlights? President McCartney's address Friday morning. Plans and drawings of the new Neilson Library. Elaine Bromka's one-act tour de force portraying Lady Bird Johnson, Pat Nixon, and Betty Ford during one of their last nights in the White House. The panel. The service of remembrance on Sunday morning and, most of all, friends old and new. Arlene Stolper Simon's after-dinner discussion in a packed room about "What are you doing now?" led to eager participation. Many commented, talking about involvement in politics, spiritual practices, family, and artistic endeavors. One member of the class reported completing 6 international marathons in the last five years. Out of the discussion came new relationships around shared interests and experiences, relationships that began to be real friendships. What a gift. Alden Finch Prouty organized a Saturday afternoon panel with participants Ann Godly Hingst and Margot Halpern Youngs on multiple living arrangements, both traditional and very new.
We learned that Smith College at 148 years is alive and well, with the second highest number of applicants in its history, 5,597 for the Class of 2023, and a 52% increase in early decision applicants over the last five years. These are women for whom Smith is their first choice.
Smith is proud to announce 15 Fulbright award winners from a field of 20 semi-finalists for 2018-2019. In the past 17 years, Smith candidates have been offered the highest total of student Fulbright awards among all liberal arts colleges in the country. We were inspired by Smith as it is today, from • state-of-the-art math and science facilities, • to a flourishing art museum and botanical garden, • to The Jill Kerr Conway Innovation and Entrepreneurship Center and the Wurtele Center for Leadership Development, • to disciplined and farsighted treatment of the environment, • to continuing commitment to diversity, excellence in education, and the empowerment of young women.
It is a place to be proud of. The class website (http://alumnae.smith.edu/smithcms/1964, PW: mendenhall) is being updated. You will be able soon to take a look at the terrific pictures, parade signs, and lists of who was involved and the new class officers.
We Reunion Chairs send our deepest thanks to the chairs and members of our fabulous committees. A full list of volunteers is attached to this letter, as well as a list of all those who attended. You can find their contact information on the Smith website.
For those of you not at Reunion, the five-year fundraising announced at the AASC meeting was $5,029,274 with an average participation of 53%. Thank you to everyone who was a part of this amazing gift.
With this newsletter, we complete our responsibilities as Class Vice Presidents/Reunion Chairs. We extend sincere thanks to the officers who served with us for the past five years and worked so hard with us to make the 55th Reunion the success that it was: President: Frances E. Vieta Secretary: Ginny Penney Gliedman Treasurer: Judy Bartleson Wilson Memorial Chair: Sally W. Smith Reunion Gift Chairs: Candy Eaker Beery, Pru Patterson Lake, Judy Hershey Melly Web Chair: Sheila Sussman Manischewitz
We send best wishes to the classmates on the new slate for the 2019-2024 term: President: Ginny Penney Gliedman Vice-Presidents/60th Reunion Co-Chairs: Vicki Hall Bruni, Gee Harvey Wheeler, Lile Rasmuson Gibbons, Anne Sonnekalb Iskrant, Sally Saunders Roth, Dottie MacColl Woodcock Treasurer: Ann Godley Hingst Secretary: Jean Howell Web Chair: Sheila Sussman Manischewitz Memorial Chair: Alden Finch Prouty Fund Team Leader: Toni Grotta Wolfman
We have had a wonderful time and hope to see you in 2024 for our 60th!
With warm regards, Susie Stringer and Lee Switz