Welcome once again to our class website!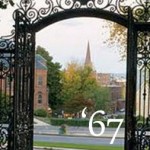 Greetings to our classmates!
We've made a big decision:  To establish our own Facebook group, a PRIVATE Facebook page that's accessible only to members of our class.
By connecting through this Facebook group – appropriately called Smith College Class of 1967– we can share text, photos and videos to show what's been going on in our lives.  For example, we can tell each other about our experiences and the coping skills we've gained during this challenging COVID-19 period.  You may even want to pose questions for classmates to answer.  We look forward to lively exchanges about these and other topics.
We'd love to have lots of photos, whether recent or older.  They can give classmates a snapshot of what's been going on in your life.  That would be wonderful.
In the past, we posted information in the Alumnae Quarterly, but that periodical is limited, contains few photos, and is out of date by the time we get it. And posting to the class website via Smith.edu is not easy, as it requires a volunteer who is willing to post what we send.
But with this new Facebook page, we can each independently post whatever we like.  Once we join, we can read what others post and add our own information.
Because this is a PRIVATE group, only those classmates who have joined will be able to see what is posted and to post their own messages. An administrator will have to sign off on everyone who asks to become a member of the group, which will prevent stray people wandering onto the page.
To make all of this work, we ask that you follow Mr. Mendenhall's advice about patience, perseverance, and especially politeness.  We should be old enough to remember civil discourse when choosing what to post.
We've started things off by sharing our own posts.  We hope you'll join us online soon!  See below for directions on how to become a member of our Facebook group and how to access the page.
With all best wishes,
Susie Bernat Rosenbaum and Kalle Gerritz Weeks
Alison Feiss Kriviskey  and Nancy Greene Grove
Your co-presidents and reunion chairs
***********************************
To join our class Facebook group, you will need a personal Facebook account.  If you don't have one, here's the link with the information about how to set it up:
https://www.Facebook.com/help/570785306433644/?helpref=hc_fnav
To get to our Facebook page, put the following link in your browser: https://www.facebook.com/groups/274148363903658
Click on Join Group.  You will have to wait for our group administrator to approve your request; you will receive a message from Facebook indicating that you are able to log on to our group.
Once you are admitted to the group, just go to your Facebook page, click Groups on the left margin, and click on Smith College Class of 1967, et VOILA.
Here is how to post what's going on in your life, raise questions for your classmates to answer, share photos and add other information so everyone in our group will be able to access it:
https://www.Facebook.com/help/232426073439303?helpref=search&sr=1&query=how%20to%20post%20on%20a%20group&search_session_id=f14080963500f48cf9efecd8d3a740f0
* Portions of this website are password protected–if you don't recall the password, send an email to smithcollege67@gmail.com and we'll send it right to you.  If you have problems with the email links, copy and paste the email address into your email application.