Welcome once again to our class website!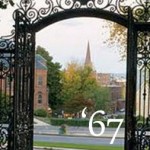 Here's an update on classmate communication, electronic and otherwise.
Our two recent surveys have indicated that we are electronically connected:
75% of us send/read texts daily
45%  spend an hour or two on-line each day
29%  are on-line for 3 or 4 hours each day
And when we asked what you would like to see on an improved website, most of what you were looking for would require some level of interactivity, posting new information or photos, reacting to what has been  posted.
One way to provide this interactivity is through Facebook, and many classes have their own Facebook pages.  Such a site would be private and secure, accessible only to classmates.  To help us think through whether/how to proceed, if you have extensive experience with Facebook, and are willing to share your knowledge, please contact us at smithcollege67@gmail.com.
Several  of you have asked how to get in touch with classmates.  Detailed directions about how to make use of the class directory on the Alumnae Association website are now posted on our site.  Click here.
In the meantime, more results from our most recent survey and information from the After  Loss, Joy Panel are posted–click on the  50th Reunion tab above to check them out.
Best regards,
Susie and Kalle
* Portions of the website are password protected–if you don't recall the password, send an email to smithcollege67@gmail.com and we'll send it right to you.  If you have problems with the email links, copy and paste the email address into your email application.