Join us in Northampton May 13-15, 2016 
#Smith06
The class of 2006 is hosting a number of events.
Thursday: 5/12
Join us at class headquarters: Lamont Living room for game night at 8 pm
Friday: 5/13
5:30-6:30 The first Class of '06 Alum Art show in the Nolen Gallery (Campus Center)
Stay after to attend a cocktail reception and hear from President Kathleen McCartney
Hit the town or stay on campus for dinner, but be sure to join us at Packards 8-11. We've reserved 2 floors for you to mingle and reconnect.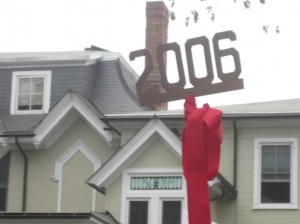 Saturday: 5/14
7:15-8:00 am: Wake up early? No problem join your class mates for yoga– Class headquarters
1:00- 2:00: Tea in the Lamont Living room with special guests the Smiffenpoofs!
12:00-3:00:  Take your little ones to the reunion picnic and be sure to stop by the class of 06 art project table.
5:30-6:30 Class social hour in the Campus Center
6:30-8:00 Class dinner in the Campus Center