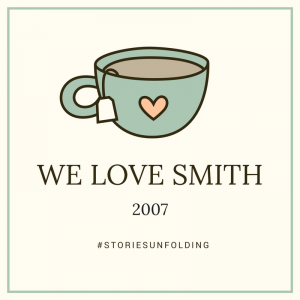 Registration is now open for our 10 year reunion, May 18-21, 2017!!
 

New Update! 

The house with the highest percentage of attendance will receive an all inclusive house outing to
Herrell's
Ice
Cream
Shoppe!
Registration, Reunion Dates & Schedule
 Register here!  Dates are 

Thursday May 18th – Sunday May 21st,

 Rough schedule here. Check in starts at

4pm

on the 18th and check out is by

1pm

on the 21st. Several small stipends are availableto ease the burden of cost for classmates, please email  Kate or Molly at smith07tenyear@gmail.com as soon as you are able for more information or to request a stipend.  
Reunion Theme & Hashtags
 We <3 Smith – Stories Unfolding
We Need YOU!
 Please help us reach our attendance goal of 285–we want to break the 2006'ers record from last year!  
Please help us to talk up reunion and direct friends to our Facebook group, 
Smith College 2007, 10 Year Reunion or this website for more up to
date information! Thank you!
Contact Info for Information & Questions
 Join our facebook group: Smith College 2007, 10 Year Reunion
Housing and Class HQ
We've been assigned to Lawrence House for our Class Headquarters – for those who have attended reunions,
you know this is our space for gathering, checking in, snacks, etc. We will all be assigned
housing individually – spread out between Green Street and Lower Elm houses.