Reunion 2023 is Here!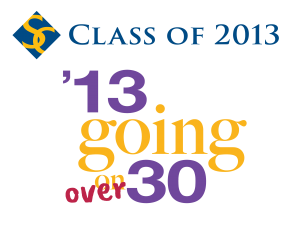 When: May 18-21, 2023
See Our Itinerary Below and scroll down for further details!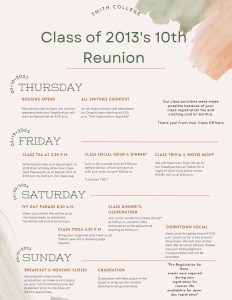 You can find the full College-Sponsored Event Itinerary Here!
And while you're at it, check out our storefront! We've got some fun tees and other items for you and your kids. All profits made from sales go to support the Class of 2013 and future Reunions!
Highlights of the Weekend
Class Dinners Friday and Saturday
Ivy Day
Class programming – tea, yoga, and opportunities for informal evening get togethers
What to Pack (Recommended)
White outfit for Ivy Day
Comfortable clothes and a blanket/towel/yoga mat for yoga with the Class of 2013
Extra blankets and towels as needed/wanted
Anything else you may need for a comfortable and fun weekend!
The Details…
Housing
Please make sure to head to Reunion check in first to get your housing information along with your temporary access to get into the houses! Please note: we will receive key cards to the houses but not keys to individual rooms. Plan accordingly!
You will be provided basic bed linens- a pillow and pillow case, sheets, and a blanket along with a towel and washcloth. That said, if you have particular items for bathing you like to have or you run cold at night, we do recommend bringing those items – extra blankets, pillows, etc. along with you. The college cannot guarantee there will be extras of these items.
Make sure to swing by Class Headquarters at Talbot to say hi to your classmates and current Smith student Class Assistants (and grab your goodies from the Class of 2013)!
Dining
Breakfasts are included as part of your housing package. You were able to add the additional meals provided by the college (lunches and dinners) to your Reunion registration during the registration period. For questions about your registration, please contact the Reunion Registration Assistant at (413) 585-2150 or reunionregistration@smith.edu.
In addition to the meals provided by the college, the Campus Center Cafe will be open during
Reunion with the following hours:
May 16th, 17th & 18th: 7:30 AM – 2:30 PM

May 19th & 20th: 7:30 AM – 11:00 PM

May 21st: 7:30 AM – 2:30 PM
And of course, our beloved Northampton still offers a plethora of options for dining should you want to get off-campus and explore downtown!
Programming:
During Reunion weekend, there will be a mixture of programming offered by the college and by the Class of 2013.
Please see https://www.smith.edu/about-smith/alum/reunion/schedules for full details about the college programming. We do highly recommend you download the Reunion App available for both Android and Apple systems via the same website. We're also attaching the class itinerary we shared out on Social Media last week to this email.
The Class of 2013 will be hosting a Class Tea on Friday afternoon and a relaxing yoga class on Saturday. All Alums and Guests of the Class of 2013 are welcome to attend.
Please be advised we cannot provide yoga mats for all attendees so please bring a blanket, towel, or yoga mat if you plan to participate. 
We will also be participating in class dinners on Friday and Saturday evenings along with beloved Smith traditions including Ivy Day and Illumination.
We will also be offering more casual opportunities to spend time with your classmates – we will be hosting a movie night at our headquarters in Talbot House on Friday evening and a Downtown Social on Saturday evening after Illumination. Please see the attached flyer for details!
Make sure you follow us on Facebook and Instagram  as we'll be posting updates and daily schedules throughout the weekend!
If you need anything during registration, we're providing the following contact information from the college:
Reunion Registration (Seelye):  413-585-2150
Reunion Transportation:  1-309-236-0927
Campus Safety (Emergencies):  413-585-5555
Campus Safety (Dispatcher):  413-585-2490 
Facilities Management: 413-585-2400
Finally, Class Elections will not be held during Reunion but will be held shortly thereafter. If you're interested in a class officer role and in helping plan Reunion 2028, don't hesitate to reach out to any of your class officers at Reunion to ask questions or talk about what the roles entail.
See the Reunion 2018 recap  for an idea of what to look forward to at our 10th Reunion.