The Smith Club Book Club generally focuses on fiction and non-fiction books authored by or written about Smith women. Everyone is welcome, whether you've read the book or not. The conversations are always illuminating, convivial and wide-ranging. 
The Smith Club Book Club meets at 2:00 pm on Sunday of every other month. Starting in 2020, we began meeting over Zoom and continue to gather virtually to include Smithies from across Colorado and Wyoming. Contact smithclubco@gmail.com to get on the book club email list.
The next book club meeting will be on Sunday, September 17 at 2:00 pm. We'll be discussing Dinners with Ruth: A Memoir on the Power of Friendships by Nina Totenberg.
About Dinners with Ruth: A Memoir on the Power of Friendships by Nina Totenberg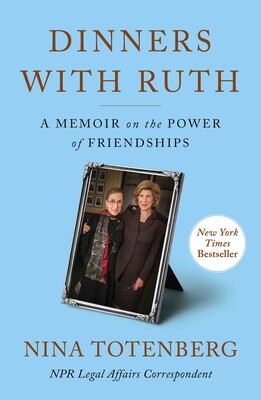 Celebrated NPR correspondent Nina Totenberg delivers an extraordinary memoir of her personal successes, struggles, and life-affirming relationships, including her beautiful friendship of nearly fifty years with Supreme Court Justice Ruth Bader Ginsburg.
Dinners with Ruth is an extraordinary account of two women who paved the way for future generations by tearing down professional and legal barriers. It is also an intimate memoir of the power of friendships as women began to pry open career doors and transform the workplace. At the story's heart is one, special relationship: Ruth and Nina saw each other not only through personal joys, but also illness, loss, and widowhood. During the devastating illness and eventual death of Nina's first husband, Ruth drew her out of grief; twelve years later, Nina would reciprocate when Ruth's beloved husband died. They shared not only a love of opera, but also of shopping, as they instinctively understood that clothes were armor for women who wanted to be taken seriously in a workplace dominated by men. During Ruth's last year, they shared so many small dinners that Saturdays were "reserved for Ruth" in Nina's house.
Dinners with Ruth also weaves together compelling, personal portraits of other fascinating women and men from Nina's life, including her cherished NPR colleagues Cokie Roberts and Linda Wertheimer; her beloved husbands; her friendships with multiple Supreme Court Justices, including Lewis Powell, William Brennan, and Antonin Scalia, and Nina's own family—her father, the legendary violinist Roman Totenberg, and her "best friends," her sisters. Inspiring and revelatory, Dinners with Ruth is a moving story of the joy and true meaning of friendship.
---
Let us know if you're interested in joining the Smith Club Book Club. 
2023 Smith Club Book Club Dates and Selections
January 29: We are Never Meeting in Real Life: Essays by Samantha Irby
March 26: A Little Life by Hanya Yanagihara '95
May 21: The Only Woman in the Room: Golda Meir and Her Path to Power by Pnina Lahav
July 23: Remarkably Bright Creatures by Shelby Van Pelt
September 17: Dinners with Ruth: A Memoir on the Power of Friendships by Nina Totenberg
November 19: Coming of Age With Elephants: A Memoir by Joyce Poole '79
2022 Smith Club Book Club Selections
The Book of Form and Emptiness by Ruth Ozeki '80
Ms. Adventure: My Wild Explorations in Science, Lava, and Life by Jess Phoenix '05
Call Us What We Carry by Amanda Gorman
Exit West by Mohsin Hamid
The Honeymoon by Dinitia Smith '67
48 Peaks, Hiking and Healing in the White Mountains by Cheryl Suchors '72
2021 Smith Club Book Club Selections
Untamed by Glennon Doyle
America's First Daughter by Stephanie Dray '93 & Laura Kamoie
The Body is Not An Apology by Sonya Renee Taylor
The Barbizon: The Hotel That Set Women Free by Paulina Bren
Band of Sisters by Lauren Willig
Kindred by Octavia Butler
2020 Smith Club Book Club Selections
Nothing Daunted: The Unexpected Education of Two Society Girls in the West by Dorothy Wickenden
The Starless Sea by Erin Morgenstern '00
Bad Feminist by Roxane Gay
American Spy by Lauren Wilkinson
Friends and Strangers by J. Courtney Sullivan '03
Julia Child: The Last Interview and Other Conversations by Julia Child '34,  Introduction by Helen Rosner '04
2019 Smith Club Book Club Selections
The Interestings by Meg Wolitzer
Invisible: The Forgotten Story of the Black Woman Lawyer Who Took Down America's Most Powerful Mobster by Stephen Carter
Kickdown: A Novel by Rebecca Clarren '97
The Woman's Hour: The Great Fight to Win the Vote by Elaine F. Weiss
Where the Crawdads Sing by Delia Owens
Becoming by Michelle Obama
2018 Smith Club Book Club Selections
Lincoln in the Bardo by George Saunders
The Velveteen Daughter by Laurel Davis Huber '73
Citizen Scientist: Searching for Heroes and Hope in an Age of Extinction by Mary Ellen Hannibal '81
We Are All Completely Beside Ourselves by Karen Joy Fowler
The Road from Coorain by Jill Ker Conway
My Own Words by Ruth Bader Ginsburg
2017 Smith Club Book Club Selections
A Spoonful of Sugar by Amanda Orr '90
Bread, Wine, Chocolate: The Slow Loss of Foods We Love by Simran Sethi '92
My Life on the Road by Gloria Steinem '56
Word by Word: The Secret Life of Dictionaries by Kory Stamper '96
Terrible Virtue by Ellen Feldman (Bryn Mawr College '64, MA '67).
The Book of Unknown Americans by Cristina Henríquez
2016 Smith Club Book Club Selections
Orange is the New Black by Piper Kerman '92
The Night Circus by Erin Morgenstern '00
Becoming Nicole: The Transformation of an American Family by Amy Ellis Nutt '77
The People in the Trees by Hanya Yanagihara '95
Dreaming in French: The Paris Years of Jacqueline Bouvier Kennedy, Susan Sontag, and Angela Davis by Alice Kaplan