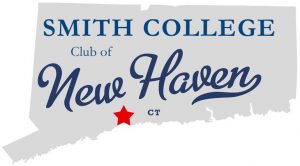 This group is for current and former Smith College students of all generations. Originally founded in 1905, our goal is to provide opportunities for alumnae to get together and exercise their Smith pride in the New Haven area. Our club is one of many around the world run on the energy and commitment of alumnae volunteers.
Join our mailing list by updating your information with the Alumnae Office.
Contact us: smithclub.newhaven@gmail.com

Club Facebook

Young Alumnae Facebook
This page was created by and for the Smith College Club of New Haven. Information on this page is intended for individual communication of a personal nature among Smith alumnae. Use of this information for any other purpose is strictly prohibited. Accuracy of the information on this page cannot be guaranteed.
Smith College and the Alumnae Association of Smith College are not responsible for the content of this page. Responsibility for the page and its content belongs solely to Smith College Club of New Haven. This page is maintained by smithclub.newhaven@gmail.com.