SCCOC offers many opportunities for or local Orange County alums to network and to join their Smith-sters for exciting events. We hope that you join us at these events as we love to see new and old faces! If you have any ideas for other events, please email us!
EVENTS PLAN FOR 2023 
Click on the flyer to see it bigger or print out. Check out the link to learn more about OCMA. Questions? Drop us an email at smithcluboc@gmail.com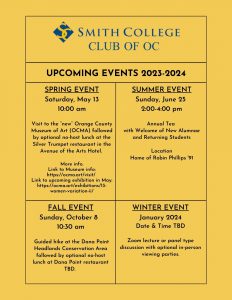 2022/2023 Events 
"New Year, New Magnetic Relationship with Money"
a Zoom Workshop with Morgana Rae '89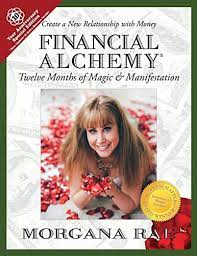 During this one-hour webinar, 

Morgana

shared how to transform our relationship with money from a monster into a "honey" who loves us and wants to be with us. 
Her book is an international #1 best seller and she's been a coach spiritual life
and business coach for 29 years.  
In October, we held our very own "Mountain Day West" in Coto de Caza.
From left, Amy Oliver '98, Mary Kelly '80, Lori Kramer Reznick '78, club co-presidents Robin Phillips '91 and Anne Seifert MA '65, and Faith Dennis Morris '78.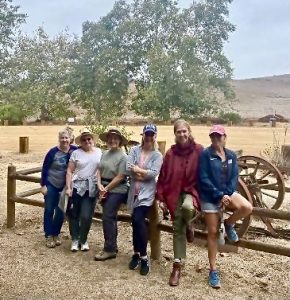 Our First In-Person Tea of 2022!
A wonderful time was had by all & hosted by Anne Seifert at her charming home in Seal Beach, CA. on July 24.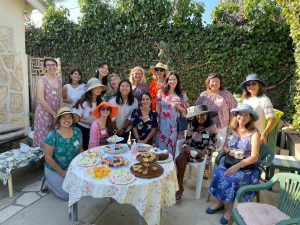 Google Meets Author Event — March 5, 2022