Remembering Mary Lea Kervin
We are heart-broken to learn that our classmate Mary Lea Kervin has passed away. Here is her obituary.
Thank you for joining us at our 40th Reunion!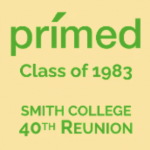 We are grateful to our reunion chairs Kate West Walles and Marie DeCrescenzo Wehrung, and all the other volunteers who helped put on such a fun and memorable event!
Looking forward to our 45th reunion!
Dates TBD: May, 2028
Smith Alumnae Quarterly
All of us love hearing from our classmates. You can now submit your class notes directly to our class secretary using the new online Submit a SAQ Class Note form. Tell us what you're up to. Send a picture of a virtual Friday Tea in the Cloud. Share family news and career milestones.
Smith highly recommends 2 new apps for reunions and networking:
Download before you arrive two new smart phone apps, the "Smith College Reunion" app and "Smith College Network" app. These are free at the Apple Store and Google Play Store. The Reunion app has the full reunion and class-specific schedule, with which you can create a personal calendar including details and campus maps. The Network app is replacing the college's Alumnae Directory going forward.
–> If you have not done so, PLEASE update your contact details: Office of Alumnae Relations
2023-2028 Class  Officers:
Co-Presidents: Marie Wehrung and Arlene Wszalek
Co-Vice Presidents/Reunion Chairs: Stephanie Leider and MaryAnn Connelly McCabe
Secretary: Kim Boestam
Treasurer: Lisa Indovino
Fun(d) Team Coordinator:  Ruth Foster
Planned Giving Chair:  Lisa Barr
Memorial Chair:  Paula Colbath
Social Media Co-Chairs:  Lisa Potter Lee and KayeAnn Lockett Mason
Web Manager:  Jenny Brophy Paduan
How you can get involved:
If you have any questions about or suggestions for our next Reunion, please contact our Class Officers
Submit class notes for Smith Alumnae Quarterly with new online Submit a SAQ Class Note form
Join our class Facebook group, Smith College Class of 1983


(http://www.facebook.com/groups/smith83/)
Follow us on Twitter:  @SmithClassof83
If you have questions about this website or have information or links to add, contact Jenny Brophy Paduan (jbpaduan "at" gmail.com)