Zoom meet-ups
Sunday January 22, 2023, at 3 pm Eastern time we are planning another Class of 1983 meet-up (this one to celebrate the Lunar New Year and share lots of reunion news!) Watch our class Facebook page for the Zoom link.
Mark your calendars for our 40th reunion: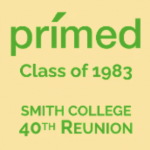 Dates: May 18-21, 2023
Commencement Weekend!
Houses open for us on Thursday. Numerous class and College events will be Friday and Saturday, including on Saturday the Ivy Day Parade (9-11:30 am) and Illumination (8:30 pm). Commencement is Sunday.
Registration will be on-line only and will be available in mid-February. Word is you should register early to ensure on-campus housing.
>> Smith Reunion website
If coming to reunion is a hardship, please contact our co-presidents, the Mitchell Twins.
Looking forward to our 40th reunion! Marie and Kate are the reunion chairs and are eager for our ideas and participation.
All of us love hearing from our classmates. You can now submit your class notes directly to our class secretary using the new online Submit a SAQ Class Note form. Tell us what you're up to. Send a picture of a virtual Friday Tea in the Cloud. Share family news and career milestones.
–> If you have not done so, PLEASE update your contact details: Office of Alumnae Relations
Class  Officers:
Co-Presidents: M. Anne Mitchell, Jamie Mitchell-Bowen
Co-Vice Presidents/Reunion Chairs:  Kate West Walles, Marie DeCrescenzo Wehrung
Secretary:  Lisa Bilbrey Hyder
Treasurer:  Becky Dawson Kuntz
Fun(d) Team Coordinator:  Ruth Foster
Special Gifts Chair:  Lisa Indovino
Memorial Chair:  Paula Colbath
Social Media Co-Chairs:  Ann Powell Groner, Sarah Bloomer
Communications Chair:  Lori Lober
Web Manager:  Jenny Brophy Paduan
How you can get involved:
If you have any questions about or suggestions for our next Reunion, please contact our Class Officers
Submit class notes for Smith Alumnae Quarterly with new online Submit a SAQ Class Note form
Join our class Facebook group, Smith College Class of 1983


(http://www.facebook.com/groups/smith83/)
Follow us on Twitter:  @SmithClassof83
If you have questions about this website or have information or links to add, contact Jenny Brophy Paduan (jbpaduan "at" gmail.com)