Our 30th Reunion is May 25-28, 2023
Save the date—May 25-May 28, 2023 is Reunion II Weekend (and Memorial Day weekend!)—Come reconnect with old friends and make new ones.
Our theme is SPF 30: 30 years of Smith-Powered Friendships, and we would love to have as many of you back on campus as possible.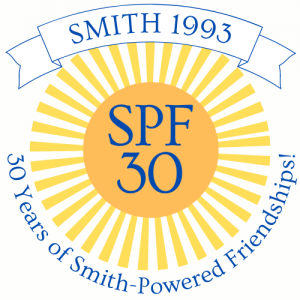 30th Reunion 2023
What we know so far…
It is Reunion II Weekend which means the not Commencement weekend.
Reunion II Weekend means that parking is easier.
Reunion II Weekend means that seniors are gone so the only late night partiers are US!
It is Memorial Day Weekend.  Reunion occurs on Thursday through Sunday before the Monday holiday.
30th Reunion is housed in the Quad (King & Scales).
We have a great team actively working on programming, swag, logos and parade signs, etc.
The majority of programming occurs on Friday and Saturday so you can arrive later on Thursday and leave early on Sunday if needed.
However, we recommend coming for Northampton time either on Thursday or Sunday so you can relive all aspects of the greater community.
Read our Fall 2022 newsletter to learn more.
Stay connected with us!
We use the official alumnae directory to send newsletters and announcements. All you have to do is keep your information up-to-date with them – that's not so hard, is it?
On social media?
Join our private Smith College Class of 1993 Facebook Group!  We have a robust, nearly 400 members.
We are assessing whether Smith93ers are INSTA users.  What do you say?  Would you follow us? Smith93 Instagram
We used to be on Twitter but…does anyone tweet anymore?
Share your memories!
In 2018, we recommended the Google Photoscan app (it worked for iPhone or Android) to convert your printed photos (remember those?!) to high-quality digital images.  What do you use now?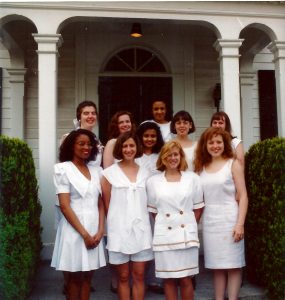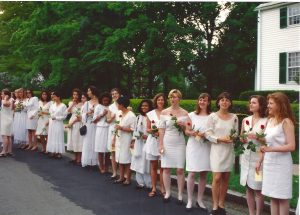 Please share (Facebook, Instagram, email) photos of you and your friends at Smith and over the years since graduation (reunions, gatherings, celebrations, etc.). We can't wait to see you!