Reunion is here!!
Download the reunion app for the schedule, campus map, presenter info, and more.
For Android users, click here. For iOS users, click here.
Our theme is SPF 30: 30 years of Smith-Powered Friendships, and we are looking forward to celebrating with you on campus soon.
Here are the details:
It is Reunion II Weekend which means not Commencement weekend.

parking is easier
seniors are gone so the only late-night partiers are US!

It is Memorial Day Weekend which occurs on Thursday through Sunday before the Monday holiday.
The majority of programming occurs on Friday and Saturday so you can arrive later on Thursday and leave early on Sunday if needed.
Pro Tips:
Smith College Reunion Official FAQ
Transportation
General
Class Headquarters is in Chase House, where

all classmates are welcome to stop in, pick up swag, connect with classmates, and just generally hang out

. Our class will be staying in Chase, Duckett, Albright, and Baldwin Houses.
Alumnae Parade is Sat, May 27, line up at 8:45 am between Campus Center and College Lane.

Pro tip:

Have Swag from past Reunions like the Sunflower umbrella or yellow boa? Bring all your Reunion items to use and wear in the AlumParade and beyond! And importantly, remember your white outfit and footwear.

Saturday Night Class Dinner 5:30 pm. Smithereens will be performing.
Illumination Night is Sat, May 27, 8-10 pm,. Center Campus is transformed into an enchanted wonderland.
All-campus Dance Party is Sat, May 27, 9:30-midnight. Let's rock it out like it's Spring Weekend 1993!!!!
Here are all the classes we'll be sharing campus with:

Classes: 1943, 1948, 1953, 1958, 1973, 1978, 1988, 1993, 2008, 2018, Diploma in American/Interdisciplinary Studies (60th Anniversary of the Program)
Checking In
Go to Seelye, not the Alumnae House when you arrive on campus. Take a trip down memory lane and sign-in at Seelye Hall! You'll get your key card for housing and get officially counted as part of our Reunion total attendees.
Reunion Check-in Hours at Seelye
Thursday: 4–9 pm 
Friday: 8 a.m.–9 pm
Saturday: 8 a.m.–7 pm
Note: Check-in will close at 11 a.m. on Sunday, May 28th. 
For those arriving later in the day after registration closes and Seelye is closed, please call campus police at 413-585-2490. An officer will be dispatched to give you your room number and let you in. However, you must stop by the next morning at Seelye to officially check-in and get your house key card.
Housing
Housing is for 3 nights – Thursday, Friday, and Saturday. So come early and soak up all the Smith-Powered Friendships 30 you can! (Sorry – the college will not prorate on a per-nightly basis.)
You can share your housing accommodation. Just bring a blow-up mattress and bedding and let the slumber party begin!
Wi-Fi
The College will provide Wi-Fi access so you can connect to the interweb.
Pack List
Bring something comfy to wear for yoga. Our very own Victoria Fouladi will be leading a Yoga for Menopause in the Scott Dance Studio.
Bring Class Memorabilia to donate to the Archives! We'll get to enjoy it at our Reunion HQ and then it will be collected for our official Class Archive. From HQ Co-Chair Ceit on items for archives:
"Help us create a class exhibit at our HQ for all '93ers to enjoy! Bring your photos, programs, flyers, handwritten notes from friends, letters home, illustrations, postcards, student organization materials, classic '93 swag…anything and everything that you feel documents your undergraduate life as a member of the class of 1993. We'll display your amazing pieces of personal history at HQ. If you'd like to boost our class's shared history at the College Archives, you can scan copies of your items to keep for yourself and bring the originals to Reunion! Not ready to part with those originals quite yet? Bring the scanned copies instead! Either way, your items will be greatly enjoyed by all, likely over a hot cup of tea."
Sheets and towels are provided by the college. For those with more refined tastes, you may want to bring your own shower shoes, pillow/case, cooling towels, and towels/robe. For those driving in, another tip is to bring a box fan (last year was brutally hot). The beds are regular twin size.
Fitness
Athletics & Fitness facilities will be open for alums during reunion at the following times:
Thursday: 6 a.m. – 6 p.m.
Friday: 6 a.m. – 4 p.m.
Saturday: 9 a.m. – 4 p.m.
Sunday: Closed
Reuning alums receive a keycard at check-in which they can use to access these facilities. The boat house also has open paddling hours with canoes, kayaks, & paddle boards 1-4 p.m. on Friday.
Food
For those planning to grab a bite or beverage at the cafes in the library or the Campus Center – you'll want to have the GrubHub app installed on your phones! Android users, click here. iOS users, click here.
Check the Downtown Northampton Association site for restaurant listings, calendar and retail events.
A few notable (and some new) places:
Breakfast/ Coffee
Although Sylvester's is closed, Jake's is still here.
Familiars Coffee
The Roost
Cafe Balagan
Lunch/ Dinner
Gombo (dinner)
Homestead
Spoleto
Tellus and the Satellite Bar (dinner and after)
Progression Brewing Company
India House
Filos Greek Taverna
Hidden Gem
Iconica Cafe
Retail
25 Central
Le BonNton
Spill The Tea Sis Apothecary
ooh la la
Beryl
Pinch
Kestrel
Reunion Memento
30th Reunion T-shirts are NOW available for purchase by clicking here. There are four different styles to choose from, each with our fun logo, priced at $30/shirt. T-shirts are available for purchase now thru June 11 and will be shipped directly to you by the end of June.
Stay connected with us!
We use the official alumnae directory to send newsletters and announcements. All you have to do is keep your information up-to-date with them – that's not so hard, is it?
On social media?
Join our private Smith College Class of 1993 Facebook Group!  We have a robust, nearly 400 members.
We are assessing whether Smith93ers are INSTA users.  What do you say?  Would you follow us? Smith93 Instagram
We used to be on Twitter but…does anyone tweet anymore?
Place to upload photos from our reunion to share with classmates – TBD
Share your memories!
In 2018, we recommended the Google Photoscan app (it worked for iPhone or Android) to convert your printed photos (remember those?!) to high-quality digital images.  What do you use now?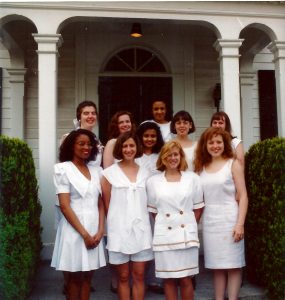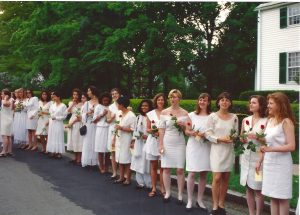 Please share (Facebook, Instagram, email) photos of you and your friends at Smith and over the years since graduation (reunions, gatherings, celebrations, etc.). We can't wait to see you!