Margaretta Mitchell

From the New York Times, Oct. 28, 2018
Margaretta K. Mitchell and Seymour Warkov are to be married Oct. 28. Judge Tara M. Flanagan of the Alameda County Superior Court is to officiate at the bride's home in Berkeley, Calif.
The bride, a photographer, and the groom, a poet, met in 1998 through a college classmate of Ms. Mitchell, who had met Mr. Warkov through yet another friend, on Block Island, in Rhode Island. A connection was suggested, and Mr. Warkov called Ms. Mitchell after he had returned to California, and asked her to lunch. The couple has since collaborated, and together produced a book of photography and poetry, "Island Dreams" (Elysian Editions, 2017).
Ms. Mitchell, 83, is the author of "Recollections: Ten Women of Photography" (Viking, 1979), "The Face of Poetry" (University of California, Berkeley Press, 2005) and other volumes of her work. Her photographs are in the collections of the San Francisco Museum of Modern Art, the International Center of Photography and other museums. She graduated from Smith College and received a master's degree in visual studies from the University of California, Berkeley.
She is the daughter of late Margaretta Rice Kuhlthau and the late Conrad W. Kuhlthau, who lived in New Brunswick, N.J.
Mr. Warkov, 88, is known as Sim. He is the author of "Thin Soils: Poems" (Ice-Blue Press, 2009) and "Reaching" (Ice-Blue Press, 2006) and other books of poetry. He retired as a sociology professor at the University of Connecticut in Storrs. He graduated from the New School for Social Research and received a doctoral degree in sociology from Yale.
He is a son of the late Rose Warkov and the late Mendel Warkov, who lived in Winnipeg, Manitoba.
The bride was a widow and the groom was a widower.
Judy Snow Denison
Oct 2014 the new conservative members of the county school board (in Colorado) tried to change the AP US History curriculum away from the College Board recommendations, to promote US "patriotism" and "respect for authority" and discourage "civil disorder".  Naturally the students and everyone else made big civil disorder in response.  Here's me at the protest (see attached photo).  Yes, that's my yellow scarf from our reunion.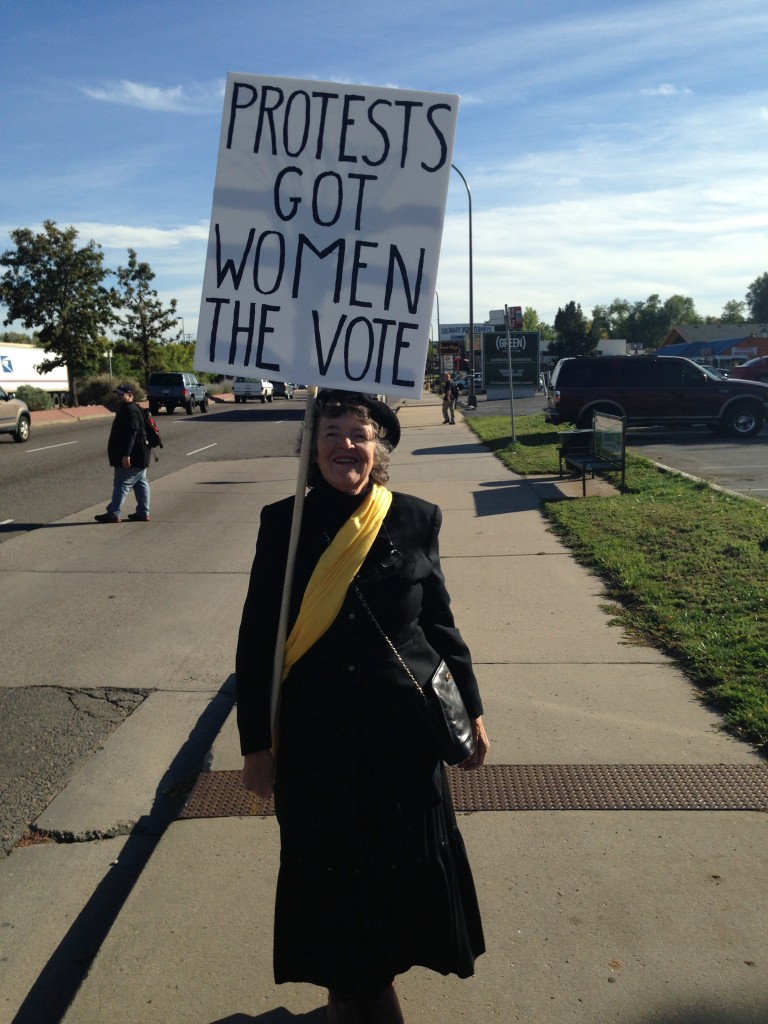 Also attached is a photo from fall 1953 of me (center) and Randi Singsaas Ryan (right) protesting a new parking lot in front of Lawrence House.  Plus que ça change….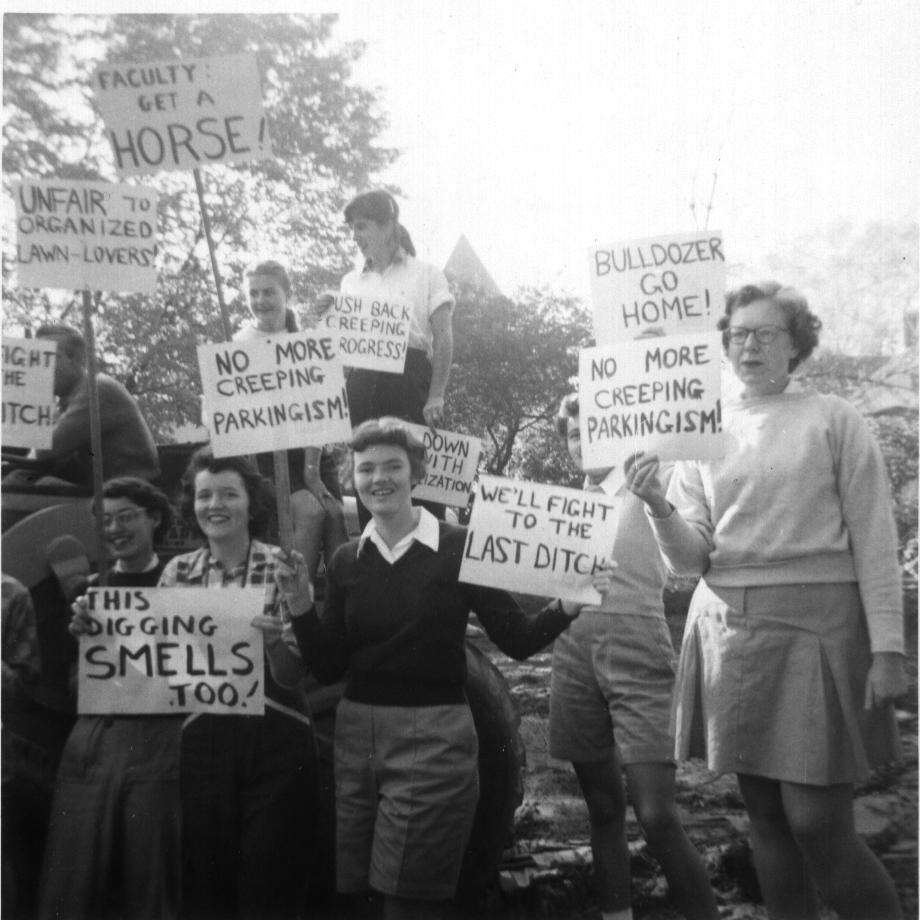 –Judy Snow Denison, March 2015
---
Class Officers News
Jane Lofgren Pearsall reports that she, Maggie Beshore Boonstra, Fifi Walcott MacMahon, and Peggy Conroy Martin, were there when Pres. Kathleen McCartney spoke to the Naples Smith Club.
Fifi adds: Naples, Florida is an exciting place to live! I'm on Development Committees for two non-profits and the Governance Committee for one as well as Investment and Art Appreciation Clubs. Naples Garden Club is my highlight.
Clover Morrissett Weller: I have just finished budgets for two 501(c3) organizations, am nursing a broken bone in my right foot back to health with" boot on," reading The Nine by Jeffrey Toobin ( re: the Supreme Court }, and planning to hostess the Class Officers' meeting in May 2015, at my Lakehouse in South Carolina.
February 2015
Cathy Eglin Maxey
Cathy Eglin Maxey hosted a lunch party in Feb. 2015. Standing: Cathy, Varney
Porter Truscott '51, Sue Mosher Stuard, and Mary Liz Klumpp Scott '50. Seated: Valerie Greenman Castleman, Cricket Janney Ball.
Parsons House Fourth Annual Reunion Trip September 2014
Cynnie Berne writes:  Here are some of the photos of the Parsons House fabulous four-day reunion in Newport R.I. I will also list the people who came: (as you can see, we had seven spouses also). In the one picture in Mary's living room , all 13 of us were there! plus three of the spouses. I was just too complicated to put all of the men in the group picture but they were there!!
Anne(Dodo) Dodge Simpson
Helen(Henny) Frost Hale
Bob and Mary MacAvoy Johnstone
David and Ellen Wood Freeman
Tom and Cynnie Crawford Berne
Mike and Sue Gignilliat Hazard
Sue Simpson  Kent
Sheldon and Dede Draper Buck
Jane Humphreys  Kusel
John and Trish Sudler Stimpson
Ann(Ding) Bell Robb
Bill and Shelley Dwight Emery
Nancy Gasway Malmon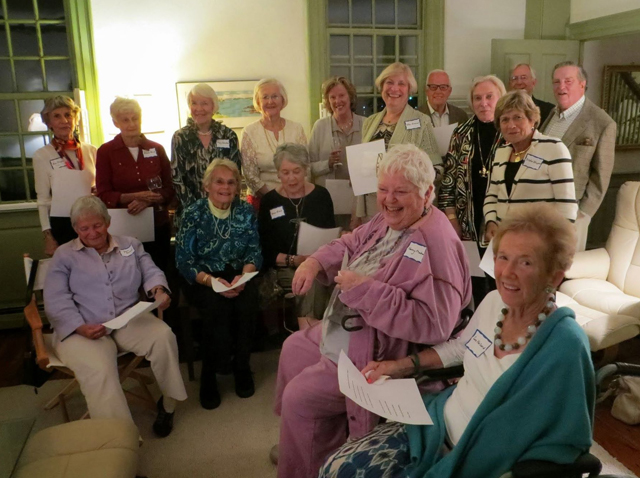 Audrey Callahan Thomas
I just published, in February, my 18th book, a novel called LOCAL CUSTOMS, set in Britain and West Africa in 1836-38 and based on four real people.   Although it has had excellent reviews, I've had no interest from the U.S. or U.K.  It can be purchased through Amazon.ca.

I am not always a writer of historical fiction, but history does interest me, especially the history of women.
---
Trip to the Galapagos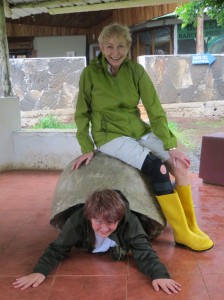 Summer 2014
---
---
Kate Neiley Begien
Several years ago Sandy Butler Gardner '58,( Northrop House and an old and close friend), and I formed Care to the Caregivers, a telephone program, based at Trinity Church, Boston. As the title suggests, we call those individuals in a caregiving capacity, and where prayers have been requested, as many times as we determine will be supportive and helpful as they may feel overwhelmed and discouraged. We are, of course, advised by clergy. Trinity is now available worldwide online, and the requests for prayers from Trinity are culturally varied and of an equal diversity, so discernment is essential. We are constantly amazed that for so little we receive so much in return, a lovely way to be of some small service.
---
Philadelphia Mini-Reunion 2013
Seven classmates met at the home of Cathy Eglin Maxey in November.
---
Parsons House Mini-Reunion 2013
We met in Philadelphia Sept 19-22, 2013.
---
---
Mini Reunion in Denver 2013
While in Denver for her 60th high school reunion, Dana Darwin Hummel sponsored a luncheon gathering at The Denver Country Club for Class of 57'ers now residing in the State of Colorado. Here pictured are the seven who made the trip in to Denver: back row, Diane Woods Hickerson, Sandra Malver Goodman, Ann Loomis Jesse, Dana Darwin Hummel; front row, Harriet Kozinnn Boonin, Penny Pope Leather, Judy Snow Denison.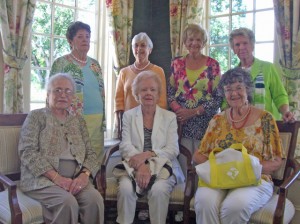 ---
Willy Robertson Frankenburg
In her garden with the only flowers the deer didn't eat. Sept. 2013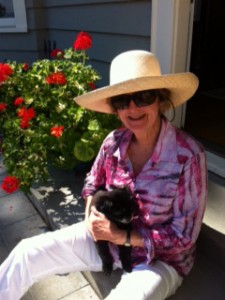 ---
Sybil Gottlieb Nadel
On display on the third floor of the Museum are a dozen examples of American art pottery from the gift of over fifty ceramic works from the extensive collection formed by Sybil and Alfred Nadel (Sybil Gottlieb, class of 1957). The selection includes exceptional examples from well-known pottery centers such as Rookwood, Weller, and Roseville in Ohio, and Newcomb College in New Orleans, as well as vessels by Artus Van Briggle and William Grueby.
Weller Pottery. Zanesville, Ohio, 1872–1948
Xenia vase with incised and painted English roses, undated
Glazed ceramic
Gift of Sybil and Alfred Nadel (Sybil Gottlieb, class of 1957)
SC 2008:41-4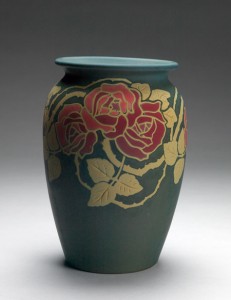 ---
Judy Snow Denison
Judy in Turkey in October — in Topkapi courtyard (Istanbul) with sweetheart Marvin Baker wearing a Cappadocia tshirt….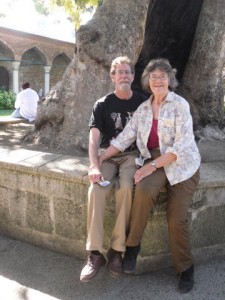 ---
Mini Reunion in Seattle June 2010
Below we have 8 Lawrence House '57 in Seattle, celebrating Randi's 75th, from California, Colorado, Wisconsin, Massachusetts, and Virginia.
---
Mini Reunion in PA 2010
Haverford, PA on March 18, 2010.
---
Mini Reunion in PA 2011
Mini-reunion hosted by Cricket Janney Ball in May 2011.