(Note: smith61.org is the short address for our website.
Also for unknown reasons a few links aren't working when you click on them. They are likely to work if you copy and paste the link. In Windows, right click, copy the link and then paste it in. OR click Open Site In New Window if that is an option.)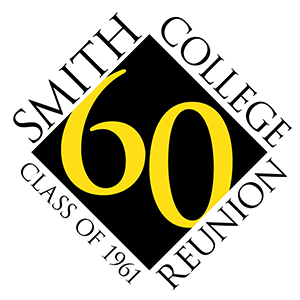 Newsletter: Spring 2022 coming soon.
To read Quarterly magazines online click here.
==============================
COVID-19 at Smith:  Click here for info on the College's response.
These links have info on donating to Smith: Make a gift and many Ways to Give
Sadly, the Memoriam page is updated more often now.
Click Newsletters/Reports on the menu to see more news.
Note: The password for a page with protected personal info is the name of the campus pond! (lower case, start with par)
Our Facebook page is at www.facebook.com/groups/smith61/. An account is required. It is a Private group which means only members can see who's in the group and what they post but anyone can find the group. It's an easy way for us to share memories/thoughts. Email me for help: ics [at] starr [dot] net. OR see this handout and this link for help.
Please let me know if you have questions or suggestions for this site or using Facebook, or if I can post something for you. Send email to  ics [at] starr [dot] net.
2021 reunions were virtual – June 3-6.
For info, click the  60th Reunion tab above. 
Our 55th Reunion in 2016 was great! The reunion report is on the Newsletters/Reports page. Many thanks to all who made it happen.  Alice Smith's many lovely photos of our reunion are posted on Facebook, in a larger format.
Site Updated: Feb 23, 2022
---
This website was created by and for the Class of 1961 of Smith College. Information on this page is intended for individual communication of a personal nature among Smith alumnae. Use of this information for any other purpose is strictly prohibited. Accuracy of the information on this page cannot be guaranteed. Smith College and the Alumnae Association of Smith College are not responsible for the content of this page. Responsibility for this page and its content belongs solely to the Class of 1961 of Smith College.