Use the following link to login or sign up for the alumnae directory and use the PROFILE tab at the top of the next page to update your contact and other information:  https://smith.force.com/alumnae/login
Use this link to go the Class of 1966 Facebook group: https://www.facebook.com/groups/131968797783/
FOR INFORMATION ON AND VIDEOS FROM OUR 55TH VIRTUAL REUNION, VISIT OUR 55TH REUNION PAGE.
NEWSLETTERS
See our 2021 and 2022 Newsletters here:
Smith Class of 1966 Spring 2021 and Spring 2022 Newsletters
See 2018, 2019, 2020 and our 55th Reunion Newsletters here:
Smith Class of '66 Fall 2020 Reunion Newsletter
Smith Class of 1966 Spring 2020 Newsletter
2018 and 2019 Newsletters
Check out News of '66 Classmates and recent Class Notes from the Smith Alumnae Quarterly
Letter from Class President, Lois Hoffman Thompson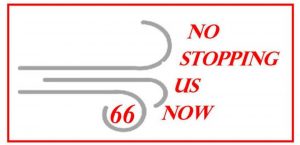 Spring 2022
Dear Classmates,
I write almost exactly one year after our 55th reunion. It is hard to believe that a full year has passed. And what a year it has been — COVID still taking a heavy toll; war in Ukraine. And on the Smith campus: the search for a new president has commenced, the New Neilson is open, and in-person commencement and reunions are being held.

As a class, we also have been busy. We launched Salon '66 and will continue it through
reunion. Please continue to send me ideas for programs that we can present and classmates from whom you would like to hear (loisdthompson@me.com).

We also have selected our reunion theme. It is 66@60: New Horizons. Just as there was "no stopping us now" as we headed into our 55th reunion, we continue to believe that the aches and pains of aging notwithstanding, we are a forward-looking group, still reaching out for new experiences (be it a new author to read, a new country to visit, or a new cause to champion). We also recognize that some of you who would love to be on campus for our 60th reunion may not be able to make that trip. Therefore, we will be sure to include robust "virtual" programing as well. You will be hearing more about this from our reunion co-chairs, Caroline Soleliac Carbaugh and Elsa Pottala Pauley, as we get closer to reunion.
One of the unanticipated joys of serving as your class president has been the opportunity to connect with so many of you. I really appreciate your emails and your comments during our Salon '66 conversations. Please keep it up!
Best wishes for a good summer,
Lois Hoffman Thompson
__________________________________________________________________________________
July, 2021
Dear Classmates,
As reunion fades into fond memory, I am looking forward to our next five years  and what I, your new class president, can do to make those years most meaningful  for all of us. First, however, I want to wish you all a good and healthy summer.
The class officers met recently and all agreed that one of the most important  takeaways from reunion is how much we value each other and our time together— even when we are physically distanced. We also noted that technology made it  possible for some who would not have been able to attend an in-person reunion in  Northampton to participate.
We therefore are exploring ways in which we can continue to meet together using  technology over the coming years. Going forward, we also will work with the  College to encourage hybrid reunion programming.
If you have any interest in helping us with this initiative or suggestions about  formats (hospitality rooms for free-flowing discussion; forums on specific topics  and, if so, what topics, etc.) or views about the best days of the week and times of  the day to schedule any such sessions, please let me know. My email address is  loisdthompson@me.com
Many of you are much more familiar with the class website maintained on the  College AASC webpages than had been the case in the past because it served as  our reunion hub. We would like to maintain that site as a vibrant location going  forward. If you have suggestions about how we might best accomplish this,  please speak up!
Chatting in person and by email with many of you both in the lead up to reunion  and at reunion was a great pleasure. All of those interactions underscored what an  interesting, thoughtful, engaged group of people we are. I look forward to many more such conversations going forward.
Best wishes,
Lois
Please do not forget to send your suggestions for how we might stay better  connected between now and our next reunion and what we should do to enhance  interest in the class website.
Letter from Former Class President, Sarah Cross Mills
Class of '66 55th Reunion Gift to Smith: A Message from Sarah Cross Mills
September, 2021
Dear Classmates:
One project remained after our gala reunion, and that was to find a long-lasting class gift to Smith in honor of that event. With the professional expertise of Gail Kern Paster (Director Emerita of the Folger Shakespeare Library), we have presented a rare book to the Special Collections at the Neilson Library. This gift also celebrates the thrilling Maya Lin renovation of Neilson.
The book we (class officers of '16-21) selected is an artist's book called Interwoven Alphabets by Alisa Banks and Diane Jacobs. It is one of the books on Special Collections' desired list that Shannon K. Supple, Director, put together with Maya Lin and the new library in mind. It had been our request that the choice be in some way connected to Maya. There is quite an extensive collection of artists' books already in Smith's possession.
The book has recently been received and catalogued, with a special bookplate that attributes its existence there to our class in honor of our 55th. We hope that when we all meet again on campus, Shannon will give us a "tour" of this entirely unique book. If you are fortunate enough to return before then, do include a visit to Special Collections!
With all good wishes,
Sarah Cross Mills

Other pages from the '66 Class Gift to the Smith Library are shown here: https://dianejacobs.net/work/281
Class Zoom Meetings
We now have a class Zoom account with unlimited meeting time! Anyone can use it for class "business", which of course includes gathering your housemates or other Smith friends.  House Reps will be using this as soon as they've volunteered for the role. Some of us with Virtual Reunion 55 on our minds have been using our own accounts to bring together housemates. Screen shots of several Zoom gatherings are posted to our website   https://alumnae.smith.edu/smithcms/1966/
  and/or Facebook  
https://www.facebook.com/groups/131968797783
.   You might feel more comfortable using your own Zoom account, although the free accounts allow only 40 minutes, unless you use one of the work-arounds, such as setting up two consecutive meetings, or, as some have suggested, once Zoom ends your meeting after 40 minutes, tell guests to sign in 
again
, using the same meeting invitation. (No personal experience with this second method, so no guarantee.) 
To use the new Smith '66 Zoom account, contact Web Coordinator, Sandy Putnam, at slputnam1@gmail.com  and give her your confirmed date and time (beginning and ending – cushion it a bit to enable guests time to join at the beginning). She will let you know if that slot is available and will send you the invitation for forwarding to your guests. At the time of the meeting, you will use the same invitation as everyone else. You and guests may be asked for the Passcode in the Zoom invitation. It's set up so guests can enter before you, if you should be delayed.
These webpages were created by and for the Smith College Class of 1966. Information on this page is intended for individual communication of a personal nature among Smith alumnae. Use of this information for any other purpose is strictly prohibited. Accuracy of the information on this page cannot be guaranteed.  Smith College and the Alumnae Association of Smith College are not responsible for the content of this page. Responsibility for the page and its content belongs solely to the Smith College Class of 1966. This page is maintained by Sandy Putnam. Email Sandy at slputnam1@gmail.com.