Thursday, June 6, 5:30-7:30pm
Hosted by Audra Dainora '89 at 1 Follen Lane, Cambridge
Consider becoming a sponsor
Tickets can be purchased at the door for $30 each.
What could be a better sign that spring is in the air than an invitation to the Smith College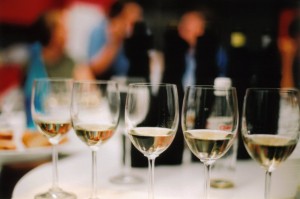 Club of Cambridge's Annual Wine Tasting Party? This is our 97th year hosting this event, which raises scholarship funds for current area Smith students. (We are also quite fond of gathering, tasting some delicious wines, and having great conversations with old friends and new!) We are pleased to announce that this year the event will be hosted by Audra Dainora, class of '89, on Thursday, June 6th.
General admission tickets will go on sale in May, but right now we need your help! We need your sponsorship support in order for us to meet our $10,000 scholarship donation goal and to cover event costs. The scholarship will be presented to the college to support a current Cambridge/Somerville/Watertown student. We absolutely cannot do this without your help, so please consider becoming a sponsor (or continuing your past sponsorship) today! All individuals who have donated by May, 1st will be listed on the invitation.
Sponsorship levels begin at $50 (and sponsors receive free admission to the event as a thank you gift).
Benefactors ($500+), Table Sponsors ($350-$499), and Patrons ($200-$349) will receive admission for themselves and 4 guests. Donors ($100-$199) may bring 2 guests. Friends ($50-$99) receive admission for themselves. Sponsor donations are tax deductible and can be made online via Paypal or by mailing a check to the following address:
Smith College Club of Cambridge
P.O. Box 400237
Cambridge, MA 02140
We're incredibly proud that the SCCC community has enabled us to contribute at least $10,000 for the past six years!  To ensure we can continue this level of support, though, we need to add new sponsors to this generous group.  If you're interested in helping a local Smith student reap the fullest rewards of her education, please consider becoming a sponsor for this special event.