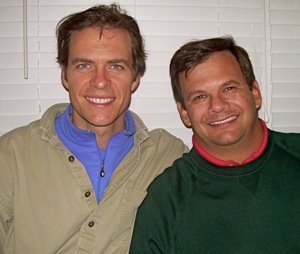 Last December 9, 2010 our youngest son Bart Sidles, 42, (on the left in photo) made a life -saving gift to his lifelong best friend, Lincoln Blackman. Linc was born with one partially working kidney, and in November he finally had to start dialysis. Bart and Linc grew up just houses apart in Lincoln NE, and although Bart went to the University of Redlands in CA and Linc went to Furman University in SC, they remained close friends.
For 17 years, Linc, a golf pro in the Southeast, and Bart, working in Romania, kept in touch. Then early last summer, Bart learned no one in Linc's family could donate a kidney, and so Bart volunteered. Luckily, Bart was moving back to the US to California.
The tests began. Wake Forest University Baptist Hospital in Winston-Salem, Linc's current home, has an excellent kidney transplant program. Bart had his own set of doctors as did Linc. Each team was concerned with the well-being of his patient, and the doctors met with both Bart and Linc just the night before the operations. The operating rooms were next to each other. The procedure took place with both families in attendance. It was very emotional for all of us (Bart and Linc's fathers have been friends for 60+ years). It is a joy to see Linc well and able to enjoy life with his wife Lori and his precious daughters Claire, 8, and Lucy 6. Bart has recovered fully and is back surfing in the Pacific Ocean and riding his bike to work in Marina Del Rey, CA.
One of the reasons I am writing this is to encourage any of you who might be considering an organ donation by a family member. If you are feeling a bit uneasy, I would be happy to talk to you. It certainly has been a major event in our lives.
Ann Stebbins Sidles
Astebbinssidles@aol.com