Do you have an interesting vocation, volunteer opportunity or hobby you'd like to share with your classmates?  Has something in your life caused you to set back and reflect on life? Is there something your passionate about from which others could benefit?  If so this is an easy way to reach out.  Send your stories, bios or thoughts to Connie Herrick Weiss
An Essay from Jane Torrey
Sisterhood

It is May 1971 and I am sitting on the floor of Moss's dorm room with the other seniors, debating whether or not we should wear clothing under our gowns at graduation tomorrow.  Gloria Steinem is our graduation speaker and we don't want to disappoint her. We are also gazing at the stripped walls, the empty closet, and the bare floor of a room that had been Moss's home but is now just a room.  The mood is reflective but also expectant.
Suddenly there is an unexpected commotion.
Moss's room is opposite the double doors coming up from the back staircase of the dorm. The staircase comes directly to our senior 3rd floor suite of rooms.  We own this staircase. There is a second set of doors that divides our rooms from the other rooms on our floor. This is our kingdom. Having lived in Wilder House for the better part of 4 years, we are now crowded in this cramped space for a last collective conversation.
The commotion. I look up. There, coming, no, falling, through the double doors, is my mother.  She is dressed to the nines in a full-length floral skirt with a matching top, jewelry, and shoes, a bottle of wine in one hand and a half-full glass in the other.  She is followed by a string of similarly attired women chattering away like a murder of crows.
My mother is celebrating her 30th reunion this weekend – the weekend of MY graduation. Her class has chosen Wilder House as their gathering place and are clearly unaware of the rules about the back staircase.
My mother is a wildly enthusiastic Smith College alum, filling our basement with books, writing endless letters to classmates, organizing gatherings; a ringleader she is.
There are rituals at graduation inducting the graduating seniors into this sisterhood. Today we watched as the alumnae, attired in white, sporting bright class ribbons and clever signs, marched through the campus walkways, giggling and cheering each other on. Tomorrow, after graduation, WE will be inducted into this alumnae sisterhood at another ritual gathering. I love my classmates but this sisterhood stuff is a bit over the top.
My classmates know my mother. There is no pretending I don't know her.
So, there she is, my mother, falling rather gracefully through the door, bottle in one hand, glass in the other, smiling gaily as if this was an everyday sort of thing. As she lands, she manages to keep both bottle and glass held upward so as not to spill a single drop. My classmates spring into action, one taking the bottle, another the glass, and the rest helping my mother reassemble herself. My mother's classmates continue to pour through those doors, collecting my mother and her treasures, then marching off down the hall to continue their 30-year conversation.
Watching this little parade, I am flooded with competing emotions. Yes, I am mortified but just look at her! Soon I will become part of a sisterhood that includes this woman of such remarkable balance, who can keep her cool in embarrassing circumstances and keep her friends of 30 years – all of whom are willing to climb 3 flights of old dormitory stairs to sit in a dingy little dorm room and continue sharing their lives.  Sisterhood, here I come!
Jane Torrey, Smith Class of 1971                                                1/16/2022
Photos from your classmates:
Celebrating milestone birthdays:
Brooke Dickinson Durland '72, Cathy Spear, Judye Feinberg in Budapest Oct 2018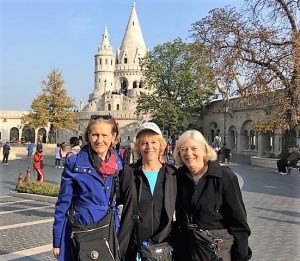 Libbet Cone '72, Carolyn Ryzek, Judith Sutton, Barbara Schneider, Lynne Hoxie in NYC in Feb 2019 – all from Chapin House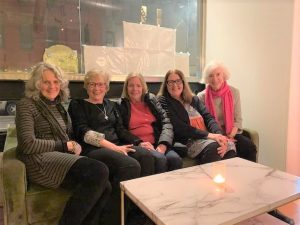 Stephanie Smith Toothman, Mary Whitney Kenny, Linne Mooney in Peak District UK  October 2018 – all from Comstock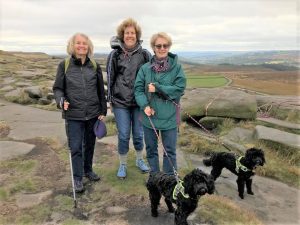 Photos from Sarah Peskin on her recent visit to Tasmania to see Liz Webster and her husband David